Applications:
Clean room, Compression cooling systems, Air filter monitoring, Pumps, Fan control, Pneumatic controls, Hospital, Duct airflow, Differential pressure monitoring, HVAC...etc.
---
Features:
Anemometer measurements for Air Velocity, Air Flow and Wind Pressure(VF-5200+ series)
Manometer(Differential Pressure)Measurements
8 selectable units of pressure measurement
±0.25% F.S High accurate
Fine ZERO & SPAN adjustments and ZERO setting
USB/RS-232 Output
Large LCD display with backlighting
Data hold and Auto power off functions
IP65、CE and RoHS approved
---
Measurement Range

※"Max. pressure"is the VF-5200 can withstand maximum pressure, entering the over pressure, the meter will be damaged.
Units Conversion Tables

Specifications of VF-5200 series
※Area:Pipeline Cross-sectional area.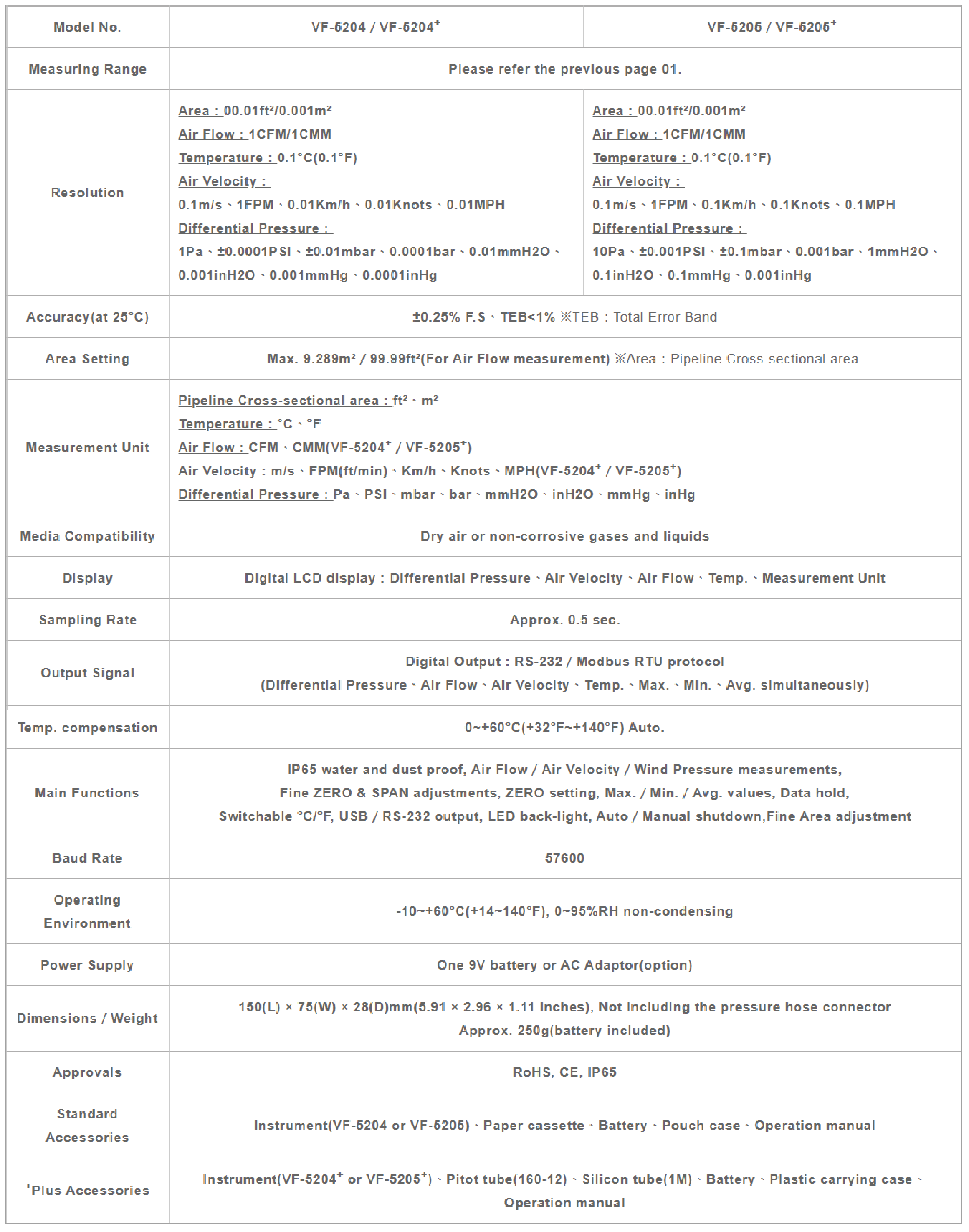 ※Specifications are subject to change without notice.
---
Option Accessories:
1)
VF-P0808
Pitot Tube(for air velocity/flow), ø8 x 300mm ※Specifications can be customized.
2)
VF-S0552
Silicon Tub(red/blue), standard is 1M ※The length can be specified.
3)
VF-C0553
Plastic carrying case
4)
RS-232
Interface cable
5)
AC Adaptor
TU-6019 (AC100V±10%)
/
TU-6029(AC220V±10%)